A legacy of pride and gratitude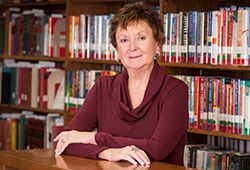 "For me, it is easy to give back to an institution that's given me so much." Kay Cimpl Wagner, who served as Gundersen Health Systems' medical library director from 1985 to 1999, recently retired from a distinguished academic career with the University of South Dakota's School of Medicine in Sioux Falls. She credits her experience at Gundersen with providing the skills and knowledge needed to succeed in the world of higher education. It's why Kay and her husband Larry wanted to remember Gundersen Medical Foundation in their estate plans.
Kay saw the "magic" of the Foundation's mission in action while serving on various committees that contributed to her professional growth. "The opportunity to play a part in the medical education process was one of my most interesting, challenging and productive work experiences here," recalls Kay. Observing the work of the Research Committee "gave me a wider perspective that enhanced my knowledge and growth for years to come." Kay's own research would include a comprehensive article on clinical medical librarianship that in 2012 was chosen as one of the most important papers published in the 100 year history of the Medical Library Association.
When Kay and Larry moved back to the La Crosse area in 2013, she became involved in a special project to identify materials from the Gundersen archives to display in the new Legacy Building. "Every item or piece of paper I touch fills me with the pride I feel for Gundersen Health System," says Kay. "I am honored to continue to be part of its legacy" by making a legacy gift to Gundersen Medical Foundation.