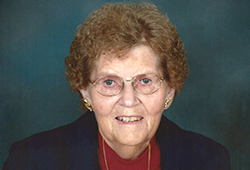 When Arlene Baerwald passed away in September 2013, she had been a member of Gundersen Medical Foundation's Heritage Society for 20 years. A faithful benefactor of modest means, Arlene's story is a touching illustration that it's not the size of the gift that matters, it's the size of the heart that gives.
Arlene lived in Tomah, where she was known by many in the community as the Badger Restaurant's "Pie Lady." A widow since 1973, Arlene had no children. Her home was on the second floor of an old house, furnished simply, accessible only by climbing a flight of stairs. Arlene's cousin, Darlene Peterson, affectionately remembers her as "extremely frugal. She never spent anything on herself. There are people like that, who don't want things for themselves. They are of a giving spirit, and Arlene and her family were givers."
Gratitude is what prompted Arlene's gifts to the Foundation, given as a way to say thank you for care received. More than once, her gifts were accompanied by a heartfelt message:
I wish I could give more but it's all I have
. Arlene's final expression of generosity was revealed after her death, when Gundersen Medical Foundation and several churches and charities learned they had been included in her estate plan.
Her cousin Darlene speculates that "being generous with her estate must have been what she wanted to do all along, because it wasn't spur of the moment. Arlene must have felt the need to give forward – and she accomplished that." Her story is a testament to the humbling nature of philanthropy, where generous hearts create a quiet legacy by truly giving all they have.