Evelyn (Evie) and Connie Lee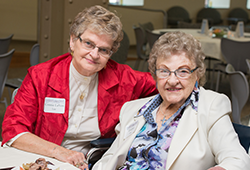 Evelyn (Evie) and Connie Lee's relationship with the Foundation began in the mid-eighties when Evie's husband, Marvin, who had worked at Trane Company for 45 years, developed a heart condition that required open heart surgery. Marvin was successfully treated by Dr. Erik Gundersen, now a retired cardio-thoracic surgeon and vice chair of Gundersen Medical Foundation. Grateful for the care Marvin had received, Evie and her daughter, Connie, made a gift to the Foundation in honor of Dr. Erik. That single act of gratitude began what was to be a lifelong passion for our mission.
When Marvin died in 1990, Evie and Connie continued to make gifts in memory of their beloved husband and father, remembering him on holidays, birthdays and anniversaries. They always chose to support cardiac and cancer research. Over the years, their gifts grew in scale, and they became members of the Founders Society and Legacy Society by establishing charitable gift annuities. Their desire to make an impact led them to become involved in the Foundation's activities on other levels, too. They visited us often to hear about new initiatives and were always the first to arrive at Foundation events, a signal they were proud of their giving and involvement.
Quite naturally, their passion and engagement led to close and meaningful relationships with so many of us in the Foundation. Sadly, we lost both of these dear friends in March 2016. Our entire staff felt a deep sense of loss because we regarded them as part of our extended family. Though they are now gone from our sight, this unique pair is certainly not forgotten. Connie and Evie touched us all. We will remember them fondly and be forever grateful for the legacy they have left behind—a legacy that started with a single act of gratitude.