Trailblazer Creates a Pathway for Future Surgeons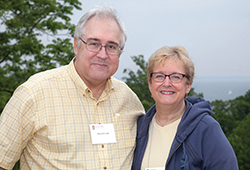 When it comes to choosing a career in the United States today, young girls generally have the same freedom of choice as young boys. But that wasn't always the case. In every male-dominated profession, there were women who broke open the doors of opportunity, fought against the confines of gender stereotypes, and created a path for future generations. In the fields of medicine and surgery in Wisconsin, Susan F. Behrens, MD, FACS, is one of those trailblazers.
Recently, Susan and her husband, David Look, contacted Gundersen Medical Foundation to establish an endowment to help train general surgical residents; thus, the Susan Behrens, MD, FACS, Surgical Skills Directorship was established. This endowment will not only recognize the high-quality training Behrens received herself but will also make a positive impact on many generations of surgeons.
Following a dream
In junior high in the 1960s, Susan Behrens completed a science project that got her thinking about a career in medicine. At the time, though, medicine was considered a man's profession. In college, she did explore other subjects, but an aptitude for science and a growing desire to help others caused her to return again and again to the idea of being a physician. With the support of her parents, Susan began her journey determined to succeed—but aware that she might face some challenges.
"I grew up knowing that my grandmothers could not vote when they turned 21 because the Constitution had not yet been amended to allow women to vote. My mother told me that Grandma always voted because she knew what it was like to not be able to. It makes me appreciate the fact that I did not have to fight to be able to vote. In the same way, the freedom of choice in the various fields of medicine and surgery is something that my generation could not take for granted as women can today. The women studying medicine in the 1960s and 1970s (and before) had to do the best job they could in their chosen specialty in order to open the door for those women who would follow us," remembers Susan.
Making a career, making history
In 1975, Susan completed medical school at the University of Wisconsin-Madison. At that time, women were not admitted into the University's General Surgery Residency Program; however, Susan had enjoyed the rotations she'd done at Gundersen Health System (then Lutheran Hospital and Gundersen Clinic), as a medical student, so the surgery residency program at Gundersen was her first choice. Susan became the first woman to be accepted into the General Surgery Residency Program in La Crosse and spent the next four years there honing her skills.
"My training at Gundersen had a huge impact on my life and career in so many ways," says Susan. "First, I had excellent instruction from all the physicians I worked with, and I knew when I selected Gundersen that I would have the opportunity for hands-on training (which was not always the case with other programs at the time). Also, the surgeons taught me the importance of communicating well with both patients and other medical personnel. By example, they showed me how to talk with patients and their families, explaining their care in a personal way and in language they could understand."
Upon graduation from the program at Gundersen, Susan became the first woman in Wisconsin to complete a general surgery residency.
After finishing her residency in 1979, Susan went on to complete a colorectal surgical fellowship at Ferguson Clinic in Grand Rapids, Mich. She was only the fourth woman nationally to become board certified in both general surgery and colorectal surgery. When it came time to begin her practice, she moved back to southern Wisconsin where she had grown up.
For more than two decades, Susan F. Behrens, MD, FACS, had a successful practice as part of the Beloit Health System in Beloit, Wis.—and by taking on leadership roles in various state and national organizations, she continued breaking down barriers and paving the way for other women in medicine. (See "A career marked by firsts" sidebar.)
Susan recently retired early due to a back condition that prevented her from continuing to perform surgery; however, she is an active volunteer for organizations such as First Congregational Church, Badgerland Council of Girl Scouts, the Beloit Janesville Symphony and Eastern Star. Susan is also a member of the P.E.O. sisterhood, a Philanthropic Education Organization that focuses on women's education. She strives to impact future generations of women in many fields through philanthropy.
Impacting future surgeons
In 2013, Susan and her husband, David Look, decided to review their wills and make some decisions about their estate. Together, the two decided to focus their charitable giving on education.
First, the couple contacted David's alma mater, the University of Oregon, where he had earned both an undergraduate degree in marine biology and an MBA. Then they contacted Gundersen Medical Foundation and, later, the University of Wisconsin-Madison on Susan's behalf.
Through a bequest in their will, Susan and David worked with Gundersen Medical Foundation to establish the Susan Behrens, MD, FACS, Surgical Skills Directorship. This endowment will provide salary support for a Skills Lab Director who will be in charge of developing a skills lab curriculum, incorporating evaluation strategies, and overseeing the development of residents throughout their training.
Ben Jarman, MD, program director of the General Surgery Residency Program, who wrote the proposal for this position, emphasizes the difference Susan and David's gift will make. "This endowment will have a positive impact on the future recruitment of medical students to the General Surgery Residency Program at Gundersen and be an integral part of their development," he explains.
Establishing this fund has been meaningful for Susan, who has wanted to recognize the impact Gundersen had on her development as a physician. "I wanted to show my appreciation for the high-quality training I received during my residency," shares Susan. "It is such a privilege to be able to support this important position. The person we sponsor with this endowment will have great influence on the surgery residents who Gundersen educates for many years to come. It is wonderful to be able to have a small part in the making of future surgeons!"
Recognizing progress
In addition to recognizing the impact Gundersen had on her career, Susan and David also chose to support the University of Wisconsin Foundation by becoming members of the Middleton Society.
With support from a matching fund in 2014, the couple decided to sponsor a professorship so that they could witness during their lifetime the impact their gift would make.
After speaking with several surgery professors about their work, Susan and David chose to sponsor Dr. Carla Pugh who, along with her medical degree, has a PhD in education. "It means a lot to be able to support a woman surgeon who is using her talents, ingenuity and leadership to bring surgical training into the 21st century," shares Susan. "I guess we feel like doting family members who can enjoy knowing that we have a small part in sponsoring her important work."
For Susan, sponsoring a woman surgeon is a part of what makes this gift so meaningful: "Now women are not only welcomed into the UW surgical residency training program, but they are also respected professors there. What a wonderful change—and I got to see it in my lifetime!"
Just as she remembers the women of her grandmothers' generation who had to fight for the right to vote, Susan hopes the generations of surgeons who are impacted by her philanthropic endeavors will remember those who had to fight to open doors in education: "Today, when I talk with medical students, residents, and practicing surgeons, it is difficult for some to realize or comprehend that surgery was not always a career open to women. We all need to treasure this change in our culture."