A family inspired to "pay it forward"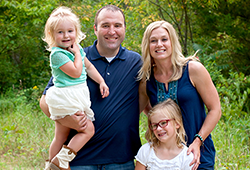 In times of medical crisis, there is nothing more comforting than knowing a loved one is getting the best care available from a trusted team of medical professionals. That is how Andrea and Ryan Vogler felt about the treatment their daughter received through Gundersen Health System when she was born prematurely at just over 25 weeks.
Weighing 1 pound, 13 ounces at birth, Olivia spent her first 80 days in Gundersen's Neonatal Intensive Care Unit. In addition to undergoing heart surgery during that time, Olivia was diagnosed with an eye disorder called Retinopathy of Prematurity (ROP), a condition that can result in blindness. After a total of six surgeries to address the ROP (and other conditions such as cataracts, invasive membranes covering areas of the eyes, and microphthalmia), Olivia is able to wear a corrective lens to achieve 20/100 vision in her right eye.
Despite having vision in only one eye, the Voglers share that Olivia is a "happy, healthy, seven-year-old child," and they are thankful for the care their daughter received at Gundersen.
"Gundersen has always been the hospital our family has chosen," shares Andrea. "We have built strong relationships with the staff members and appreciate they provide the highest quality of care. When it came to Olivia's treatment, we could not have asked for anything more. Not only did they treat her medical needs, but they also helped our family through the difficult time."
The Voglers are also thankful for the additional support they received from Children's Miracle Network Hospitals®, a service of Gundersen Medical Foundation. "The support from CMN Hospitals has been and continues to be something we treasure. From meal ticket vouchers, to travel expenses, to specialized equipment, they have provided us with resources that made tough times easier. The staff members make Olivia feel so special each and every time we attend an event or meet with them. They are truly special people who understand how to make children and their families feel that they are not alone in the many challenges they face," says Andrea.
Given Olivia's "unique" start, Andrea and Ryan realized that life can be fragile, so they recently took time to prepare their will. The desire to recognize the outstanding care that their family received at Gundersen—and their desire to support other families facing challenges—led the Voglers to make a bequest in their will to support CMN Hospitals.
"We simply feel that this organization is part of our life's work and passion," says Ryan. "As long as we can, we will continue to support its cause and be involved in promoting it. It makes us feel good to know that we're contributing to such a great organization."