A gift from the heart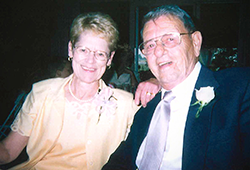 Maryjane and Rod McMullin received their medical care at Gundersen Health System's Sparta and La Crosse locations for 48 years. "Even though the organization is so large," says Maryjane, "the staff provides such personal care. Each individual is important." That kind of personal relationship was especially important to the McMullins when Rod was diagnosed with lung cancer in 2007.
Soon after his diagnosis, Rod, then 78, began receiving treatments to fight the cancer. "I couldn't imagine going through what Rod went through," shares Maryjane, "but he never complained. Rod received great care—and we were both grateful for the six additional years we had together."
Rod passed away in 2013 after spending the last two years of his life receiving hospice care. During that time, the couple began making a monthly contribution to Gundersen's Hospice Fund. "We felt so close to the staff," recalls Maryjane, "and we wanted to recognize the wonderful work they were doing."
Maryjane continues to send a monthly gift in honor of her late husband and, she explains, to recognize the support she has received even after his death. Recently, Maryjane also named Gundersen Medical Foundation and the Hospice Fund in her will, along with other charitable organizations that are close to her heart.