The evolving nature of philanthropy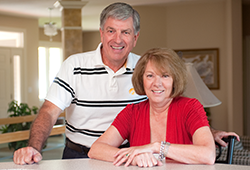 Kenna and Roger Christians of La Crosse are longtime supporters of Gundersen Medical Foundation. Their first gift (a memorial) was recorded in 1989; they have made regular annual gifts for 23 years; and supported special causes like breast cancer research and Children's Miracle Network Hospitals ®. This year, after participating in the Thompson & Associates estate planning process, the Christians are taking the further step of including the Foundation in their estate plans, making them new members of our Legacy Society. Roger and Kenna each have a distinct perspective on the evolution of their approach to philanthropy, which includes giving of their time, talent and treasure to benefit community causes close to their heart.
Roger: "We're very grateful."
"We found out over the years how lucky we are to be here. The life experiences of other people - Kenna's parents, for example - who don't have a consolidated, comprehensive place to receive their health care…it's painful to watch them go through so much to get the same care they could get here by just going one place. And the results weren't as good.
"The people we know at Gundersen Medical Foundation and our experiences there are hugely important. This organization has their act together. They have the right people, doing the right things, and it makes you feel better about making a difference. This place has stability like none other in town."
Kenna: "It's important to have a plan."
"One of the things we think is important about annual giving and year-end giving is consistency. You need to think about what's important to you when you make those decisions. We've become much more focused on La Crosse because we've decided this is where we're going to stay and we want to support this community. So we sit down and look at the organizations we want to support at this point in our life, because people's interests and lives change.
"Our relationship with health care and with Gundersen Health System is much different than it was at the beginning. Over the years, between the kids and each of us, we've gone from things that just made you healthier to things that changed your life or saved your life. We feel very strongly about the difference Gundersen has made in our lives."
On leaving a charitable legacy
"We think it's important for our kids to understand they'll get their share, but we intend to do some other things, too," says Kenna. "We both feel really good that as families, they embrace volunteering. Even though you don't intentionally teach those things as parents and grandparents, they see it."
Roger adds, "The other part of it is that tax implications make it much easier than I would have guessed it to be. In terms of making a donation, a bequest allows you to do a lot more. I didn't know anything about that, and I think a lot of people may miss that as well."