A Couple's Lasting Commitment – to Research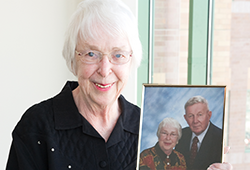 Cancer research is a cause that became close to the heart of Lorna Peterson and her late husband, Lyle. The disease was a part of their lives for many years —skin cancer for Lorna, colon cancer for Lyle. It didn't slow them down.
Lyle Peterson worked for the Minnesota Department of Transportation for nearly 35 years before retiring in 1990. Lorna taught school for 36 years, retiring from the Caledonia School District in 1993. Together they were avid travelers; from 1995 until Lyle's death last year, they had enjoyed over 120 sightseeing bus trips throughout the country. It's how they chose to celebrate their 50th wedding anniversary in 2009 – with a trip to Nashville.
The Petersons, longtime residents of Houston, Minn., were also longtime supporters of Gundersen Medical Foundation. Their annual gifts were an expression of gratitude for care received over many years. "We both just loved Gundersen," says Lorna. "The doctors, the nurses, the volunteers, the people who work at the desk – they all have been so good to us." She has a great relationship with her own doctor, Amanda Strosahl, MD, and nothing but praise for the many physicians who cared for Lyle through the years and especially during his final illness.
Like many people, the Petersons took their time when considering an estate plan. Lorna recalls urging her husband about "getting our house in order" since they didn't have children. When Lyle finally agreed, one of her first questions was, "How do you want to set this up? Where do you want the money to go when we're gone? And he said, 'to Gundersen Medical Foundation for cancer research,' which I agreed was a wonderful idea.
"This is a wonderful place," says Lorna. "They do wonderful work. And I know they will make good use of that money." Initially, the Petersons asked that their legacy intentions remain anonymous. It remained that way for a number of years, even as Lyle was diagnosed with angiosarcoma, a cancer of the inner lining of blood vessels which can occur anywhere in the body.
As Lyle underwent multiple surgeries, radiation treatments, and chemotherapy, Lorna stayed in touch with the Foundation. One day, she came in with a personal request. "Lyle and I had been talking, and we decided we no longer wanted to be anonymous about our estate plan," says Lorna. "We just thought that if it inspires other people to think about that type of legacy, then you can use our names." They have been recognized as members of Gundersen Medical Society's Legacy Society ever since.
In accordance with Lyle's wishes, Gundersen Medical Foundation was also a recipient of memorial gifts made when he passed away last March. "Lyle is the one who made that decision," says Lorna. "Especially after this happened to him (Lyle's final battle with cancer lasted two years and nine months) cancer research was number one for him, and for me."
Robyn Tanke, CFRE, chief development officer for Gundersen Medical Foundation, has known the Petersons for many years. "I think Lyle would be really proud of Lorna's continued commitment to cancer research. This disease hit them so hard personally, but their gift will help support progress beyond his lifetime."